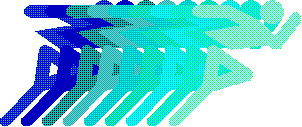 AIM BarleyLife For Athletes
Strength and Endurance Naturally
A number of professional and amateur athletes have discovered increased strength and endurance with less fatigue and stress through the use of dehydrated barley juice powder. In fact at least one professional trainer recommends dehydrated barley juice powder to his team. He attributes his breaking the world weight lifting record to dehydrated barley juice powder. As far back as 2800 BC there is written mention of athletes in Babylon and ancient Greece that drank a barleymush in preparation for athletic events. It is very possible that the first Olympians excelled due to an ancient ancestor of BarleyLife!
Why all the interest in BarleyLife? The young barley plants used to make BarleyLife are extremely dense nutritionally. Full of vitamins, minerals, amino acids (proteins), enzymes, chlorophyll and more. BarleyLife offers what no vitamin or protein supplement can. The real power of BarleyLife is found in the combination of all these nutrients, as created by the Master Chemist Himself, a complete biological phenomenon. BarleyLife is cell food. Every cell in your body is replaced in about one years time. BarleyLife feeds and repairs cells so that new cells are stronger and healthier. Stronger healthier cells create stronger healthier athletes - naturally. This is why athletes are saying things like "Barley juice powder has become indispensable to me as part of my recuperative, rebuilding phase immediately after my workout" and "BarleyLife has made a phenomenal difference in my endurance and recovery time".
See also Barleygreen Fitness Food of Champions by Harry Sneider, Ph.D. Trainer of Champions Fitness Consultant.
Leave us Your Questions or Comments Online
AIM Distributors in Your Area

Product and Article Links

Product Summaries & Retail Prices
How to Order

Become an AIM Wholesale Member

Wholesale Price List
TOLL FREE Ordering and Member Signup

Get the LOWEST POSSIBLE PRICES
The Good Health Discussion Board



Loren & Kathy Schiele
8733 Fawn Drive
Dallas, TX 75238

Toll Free: 1-877-735-2121
Phone: 214-340-0379

FAX: (585)492-2287
email: Loren@yourlifesource.com

Copyright © 2005 Loren & Kathy Schiele -- All Rights Reserved
.