AIM Garden Trio ™
BarleyLife, Just Carrots, Redibeets
A Money Saving Combination of 3 Awesome Products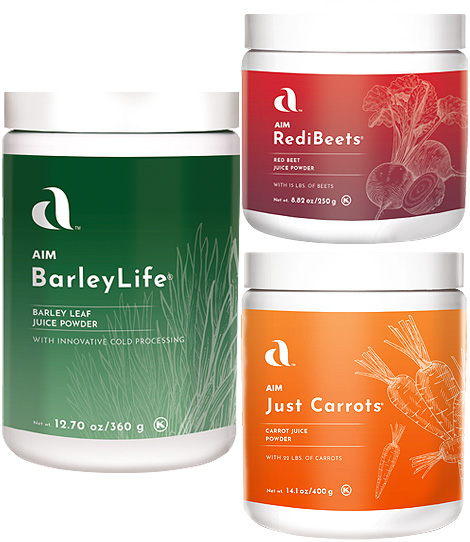 AlM's Garden Trio provides a way to meet your dietary requirements in a convenient, easy-to-use form. Each of the juices used to create the Garden Trio comes in convenient powder that you simply add to water, and enjoy. 5-9 daily servings of veggies and fruit become possible with the Garden Trio.
Together - BarleyLife, Just Carrots, and RediBeets, represent the three juices that make up the core of any successful juicing program. By combining the different nutrients found in these three distinct vegetable forms, you can create your own juicing program - without the hassle and expense (both time and cost) of juicing. Plus, with AlM's Garden Trio you are assured that the vegetables that go into each serving of juice are residue free.
No more messy pulp. No more searching stores for source of organic vegetables. No more letting your diet suffer because you don't have time to eat enough healthy vegetables each day, let alone the time to turn those vegetables into a healthy and delicious glass of juice. With AIM's Garden Trio, it's easy to make nutritious vegetable juice part of your daily diet.
The Garden Trio - BarleyLife, RediBeets, and Just Carrots is available in powder. Each member of the garden trio can also be purchased separately however you save about 5.2% by purchasing them as a trio. An additional 5 and 10% savings is available on orders of $200 and $600.



Fun with Bernies Burger Barn audio (turn up your speakers and give it some time to download with slower connections.)

The Garden Trio is also available in the Body Booster 1 Starter Pack along with Herbal Fiberblend saving $6 more and providing FREE shipping with FREE AIM Membership. See our online order page under "Money Saver Combo Packs"